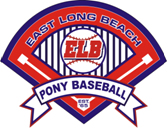 7th ANNUAL EAST LONG BEACH
'SHETLAND MEMORIAL DAY 6U STAMPEDE'
2018 ALL-STAR INVITATIONAL TOURNAMENT

The tournament will take place

May 26-28, 2018
We welcome teams from around the area who would like to get their
all-star teamsready for official PONY tournament play.

Teams Commited to play include:

- East Long Beach
- Paramount
- Norwalk
- Santa Monica


---
---
Click here to view and print the official tournament entry documentation:
WEST ZONE SHETLAND RULES & REGULATIONS
TOURNAMENT AFFIDAVIT FORM
(SHETLAND)
---
---
Tournament Format: This tournament is intended for league All-star caliber teams looking for tournament experience prior to official PONY all-star tournament play. All teams are guaranteed to play a minimum of 4 games.

Pitching Machine: ELB reserves the right to use any type/style of pitching machine at its discretion, for this invitational tournament only.
Home Team: Determined by coin toss before each game.
Dates of Play: Play begins on Saturday, May 26th, and ends on Monday, May 28th
Rules: The games will be governed by the Official Rules of Baseball (Sporting News edition), as modified by PONY official tournament rules.
Location: Games will be played at East Long Beach Pony Baseball fields at Heartwell Park in Long Beach, CA. (Corner of Carson Blvd. and Woodruff Ave.)
Tournament Entry Fee:
Cost: $400 per Team
Entry Deadline:
Your entry form, with payment, must be received by May 21, 2018

Make your checks payable to:
Send entires to the following address:
ELB PONY
6285 E Spring St, #285
Long Beach, Ca 90808
Contact ELB Tournament Director, Jesse Guillen for more information at tournaments@elbpony.org
Team Requirements:
- A team must have no less than 12 and no more than 15 players registered. Rosters are not permitted to change once it has been accepted by the Tournament Director. All players must have played within the same sponsored 2018 league. (Pony, Little League or Independent Leagues)
- Proof of Insurance (e.g., a copy of your league's insurance policy declarations page).
- Proof of age for each player

- Team roster (plus one copy to be turned in 1 hour prior to your first game)
- The team will not be permitted to play if the required information has not been submitted to the tournament Director.
Awards: EACH Player will receive an individual award for first & second place teams.
We look forward to having you join us for this year's tournament. Should you have any questions, please feel free to contact us directly.